Teamio Huddle Update – Open Dental KPIs
Since we released Teamio Huddle in beta about six months ago, we've made significant changes and upgrades.
Below is the picture of the important Open Dental KPIs you should be seeing today since we pushed out the updates.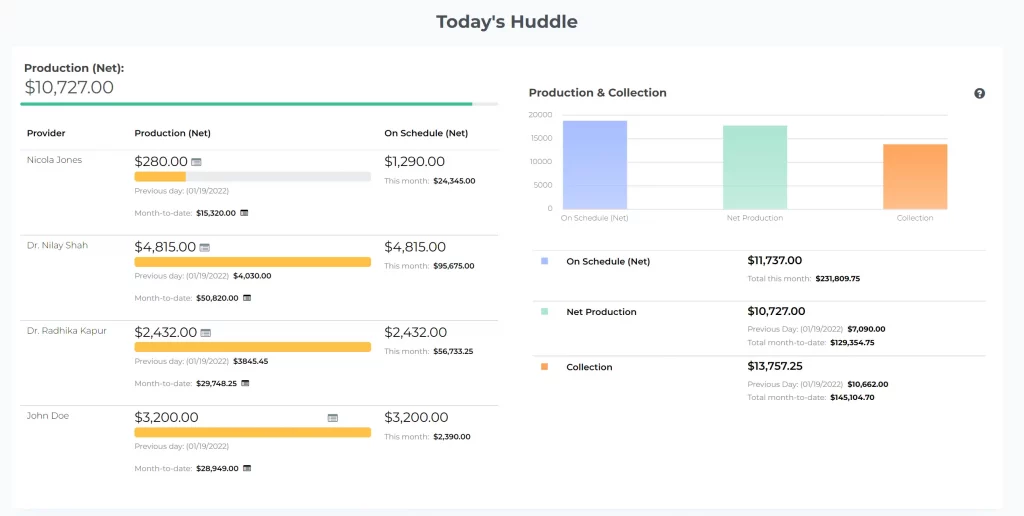 If for any reason you're not seeing this screen, do a hard refresh by the following:
Hold down Ctrl (Control) + Shift and click R / Or hold down Ctrl (Control) and click the Reload button.
From the things we released in the initial version of Huddle , we've added new KPIs and also fixed few bugs.
Here are some important open dental KPIs that we've added:
Individual Provider Data (For Providers on Schedule today who have patients):

Net Production (Adjusted)
Month-to-date Net Production (Adjusted)
Scheduled (net) $ value of what's on schedule for each provider as well as the whole practice
Previous Day (Previous working day) KPIs:
Previous working day Net Production data for each provider to be able to compare to today's numbers
Total Previous day Net Production
Collections for previous day
Net $ Treatment Planned:
How much is being treatment planned by each providers on schedule today
How much was treatment planned previous day by individual providers
Month-to-date Treatment planned $ amount by individual providers

The details of procedures being treatment planned:
For Today, Previous Day and Month-to-date, you will able to view the following information regarding treatment recommended by each provider :
Patient
Net Fee – If you're in-network, then the Net adjusted fee of the patient's specific insurance plan will be shown
Treatment plan for each tooth: Procedure code, description
Appointment Status – whether the procedure is scheduled, unscheduled or completed (for same day treatment).
Of the total $ treatment planned, how much is ACCEPTED TODAY – you'll see the totals information at the top of the popup.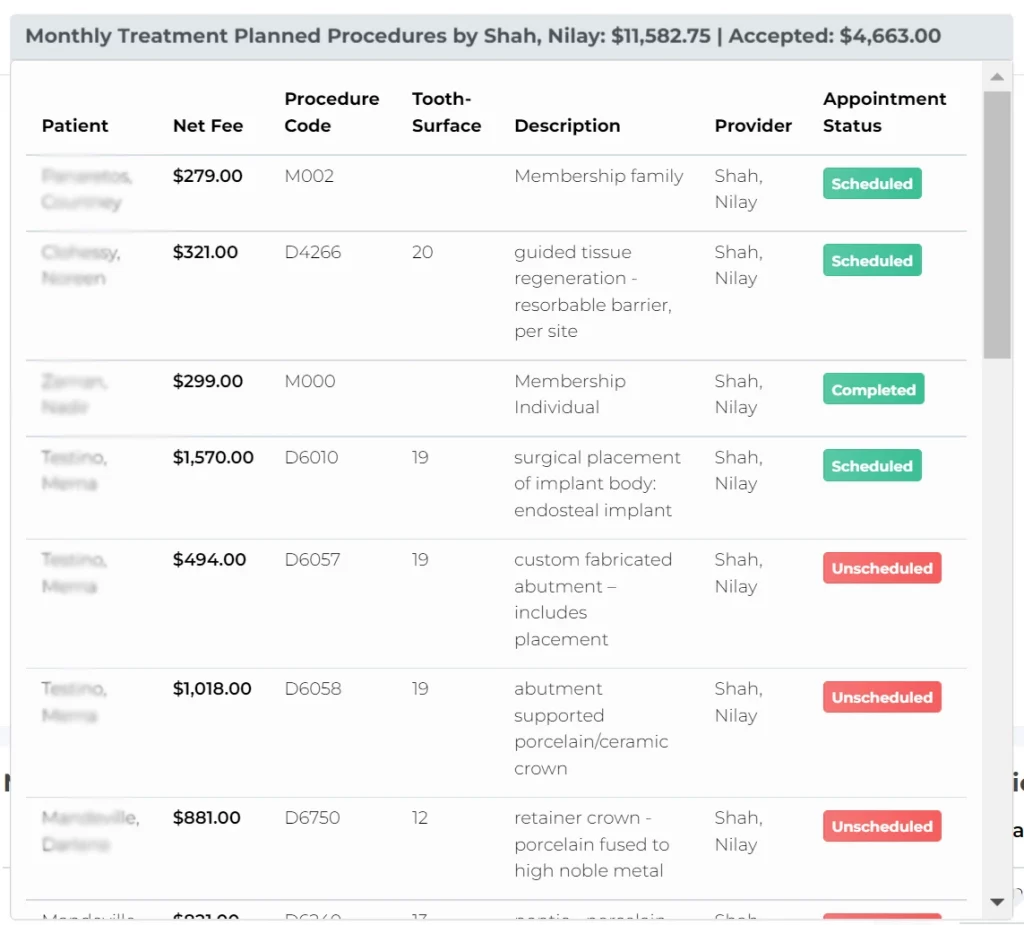 Detailed Net Production Data for individual Providers:
The pop-up will show procedures completed so far at the time you're viewing the Huddle page.
For Today and Month-to-date, you will able to view the following information for each provider :
Procedures completed grouped by Procedure code and count (how many fluorides were done, how many extractions, etc.)
Net Production – shows the net adjusted production of the procedures done taking into account adjustments and write-offs..
This information, for instance, should help you answer things like "what was the net production for all implants that were done today?", "what was the net production from all extractions, exams, prophys, fluorides" etc.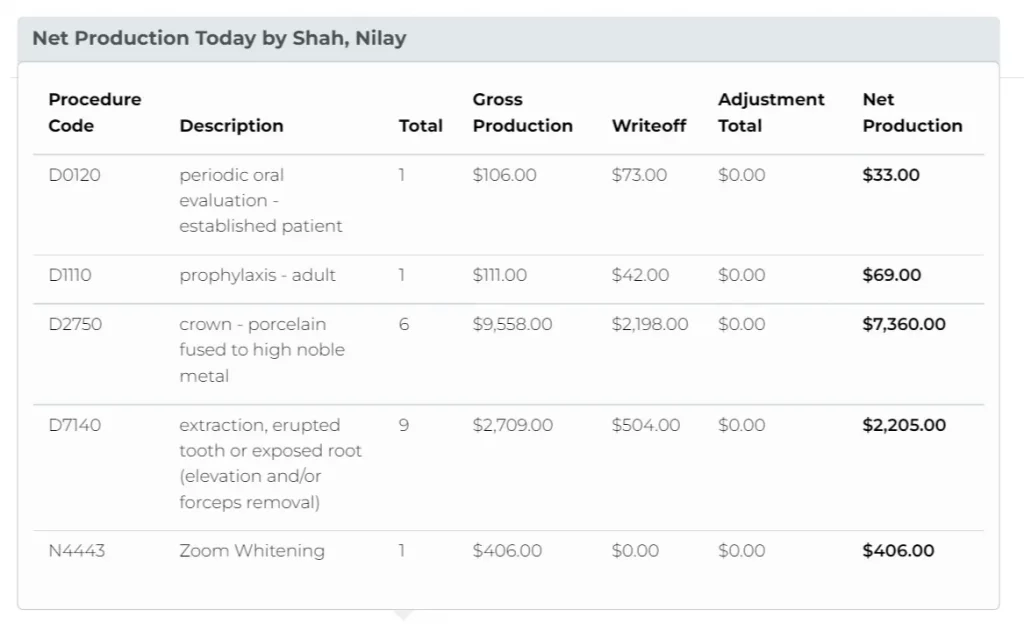 Usage (things to keep in mind)

:
The Huddle shows data that is latest from Open Dental as of the time the page is loaded.
If you opened the page, let's say just 2 minutes ago, and since that time more things have changed (procedures have been completed, money collected, etc.) – simply refresh the page to get the latest data.
Coming soon

:
Pie chart of Outstanding Claims, showing percentage and $ amounts of unpaid claims over 30, 60, 90
Procedural analysis of what's done in a day (for today's net production by provider) – A Pie chart of Categories of procedures done (perio, crown & Bridge, Diagnostic, Implant, Oral surgery, etc.)
Production Per Visit amounts for providers
Hygiene Production breakdown (i.e. net production from fluoride tx as % of total hygiene production, sealants, SRPs, Perio Maintenance, etc.)